Most Beautiful Places To Visit In Chile
There's a saying in Chile that when God finished making the world, he had a bit of every kind of landscape leftover: desert, forest, mountains. So he put them all together and made Chile. And when you look at this thin sliver of a country hanging off the western edge of South America, it's easy to see why.
Stretching nearly 3,000 miles from the warm climes of central South America to the frigid, storm-lashed toes of the continent dipped in the Drake Passage, Chile's length has blessed it with a wide range of climates and habitats that in turn means easy access to nearly every kind of environment you can imagine.
Exploring its many diverse natural wonders properly would take a lifetime, but there are some places that rise above the rest; some made by time and nature, others made by man that capture and pay tribute to the grandeur of this country. If you're looking to experience Chile at its most ravishing, these are the twelve most beautiful places to start.
Torres del Paine National Park
Looking to discover Patagonia's Greatest Hits of mountains, glaciers, and grasslands? Visit Torres del Paine.
The most famous of Chile's illustrious national parks, this almost indescribably gorgeous 448,280-acre park is extremely popular among backpackers who come to tackle the W Trek, a W-shaped multi-day hiking route that traverses the park's central massif, visiting highlights like the colossal Grey Glacier, the French Valley, and the Towers, a trio of granite spires rising above a glacial lake.
The park is also a great place to spot native wildlife like pumas, guanacos, and the Patagonia condor.
Marble Caves
Located on the fringes of the vibrant General Carrera Lake in the southern Aysén region, the Marble Caves answer the question of what the inside of a kaleidoscope is like. Over time, the sediment-rich waters have eroded the calcium-carbonate rocks, transforming them into sculpted caves painted in Impressionist swirls of multi-colored blue.
The caves are only accessible by boat or kayak, and tours are offered from nearby towns to visit.
Elqui Valley
These intertwining valleys in Chile's "Norte Chico" (Little North) fly under the radar for most foreign visitors, but are well worth a visit. Steep, craggy mountain slopes descend to valley floors of verdant green vineyards, growing the grapes used to make Chile's liquor of choice, pisco, at pisquera distilleries.
The valleys are also reputed to have a special mystical power that provides a direct conduit to the universe, and counterculture and New Age beliefs & practices abound here. At night, the elevation and clear skies provide unparalleled stargazing.
Miscanti and Miñiques Lagoons, Atacama Desert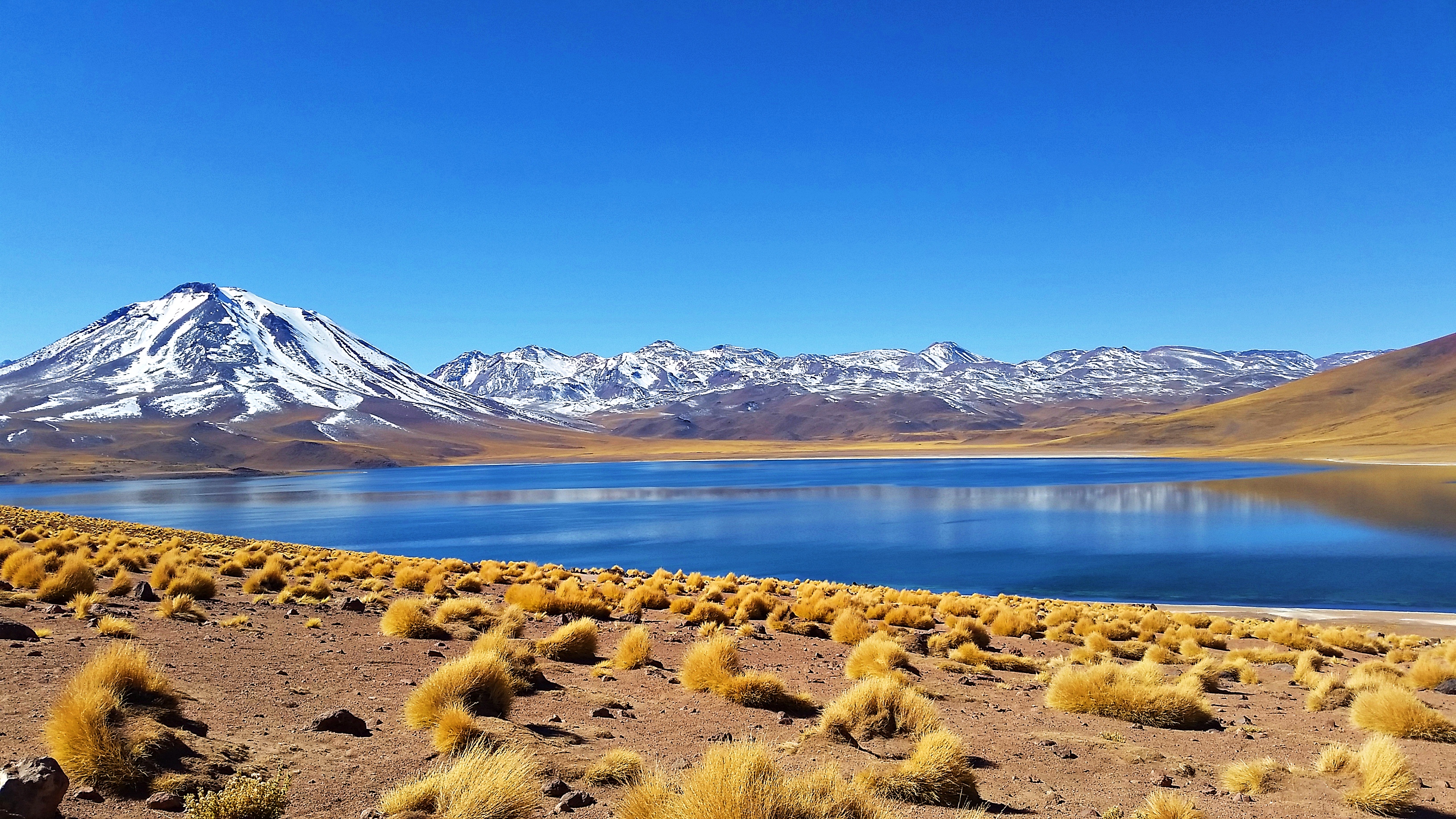 Cradled between mountains and volcanoes, these twin high-altitude lakes in the northern Atacama Desert (the world's driest non-polar desert) sit over 13,500 feet above sea level. The rich, cobalt blue waters mirror the sky overhead, which due to the elevation seems so close you can almost touch it.
The white sandy beaches, yellow desert grasses, and purple-and-red mountains framing the lakes complete the picture, and when you stand by the lakes, listening to the wind whistling through the peaks, you feel like you're completely alone on top of the world (apart from the resident flamingos and vicuñas).
To reach the lagoons, it's roughly an hour-and-a-half drive from the town of San Pedro de Atacama.
Chiloé Archipelago
It's fair to say that Chiloé, an idyllic archipelago off the coast of the Lakes District, is enchanting; not just because of its forests, rolling hills, scenic bays, and charming towns, but also because of its mythology, which is full of stories about womanizer trolls, mermaids, ghost ships, and covens of warlocks.
With no bridge to the mainland, the islands have developed a culture and way of life wholly unique from the rest of the country. Here, entire houses are moved by teams of ox and men in a tradition called minga, people live in colorful wooden houses (known as palafitos) that are built on stilts over bays, and time seems to have frozen still in the isolated villages on outlying islands.
The archipelago is also famous for its elegant wooden churches, many of which are listed as UNESCO World Heritage Sites.
Valle de la Luna, Atacama Desert
Just a short drive outside San Pedro de Atacama, this stark, otherworldly valley of red-rock ridges and cliffs, giant sand dunes, and wind-sculpted formations truly does feel like being on the moon.
In certain areas, evaporated lakes have left behind sprinklings of salt that give the illusion of a fresh snowfall. Perfect for hiking during the day, sunset is the best time to visit, as the fading sun sets the valley's rocks ablaze with color. The terrain is so extraterrestrial, NASA has even tested Mars rovers here.
Conguillío National Park
Want to go back in time to the age of the dinosaurs? Conguillío National Park is the closest thing. Located in the Araucanía Region, this national park is best known for its Araucanía or "monkey puzzle" trees: towering, bare-trunked trees crowned with arching branches. These ancient giants, which are the national tree of Chile, can live for thousands of years; one tree, the Mother Araucaria, is over 1,800 years old.
Hiking through these prehistoric forests, you truly feel like a dinosaur is just around the next corner (the BBC used the park as a filming location for Walking with Dinosaurs).
The park is also home to the smoldering Llaima Volcano, which has ribboned parts of the park with black lava flows, crystal-clear lakes, and native wildlife like Magellanic woodpeckers.
The Lake District
Located in the mid-southern reaches of the country, the Lake District – the Gateway to Patagonia – is a wonderland of snow-capped volcanoes, torrential rivers, glistening lakes, and deep forests. This has made it a haven for outdoor sports lovers, who flock to cities like Puerto Varas and Pucon to explore the surrounding wildernesses and national parks.
In scenic cities like Puerto Varas (overlooked by two volcanoes and sitting on the edge of Llanquihue Lake), you'll also see evidence of the region's history as a hub of German immigration, with picturesque traditional architecture, food, and beer. (The Lake District is ground-zero for Chile's craft brewing scene).
A total solar eclipse will be passing over the region on December 14, 2020.
Historic Santiago
The capital of Santiago is a sleek, modern metropolis, but navigate your way into the heart of the city and you'll find the soul of Santiago in its classic, old neighborhoods like Lastarria and Bellavista.
Here, European elegance is mixed with vibrant Chilean flair in these bustling neighborhoods full of museums, local boutiques, as well as cafés, bars, and restaurants where you can get to know the city on a more personal level.
Both of these neighborhoods also have hilltop parks (Santa Lucia in Lastarria, Cerro San Cristobal in Bellavista). Climb them (or take the funicular car up) to take in the sweeping city views and catch a glimpse of Andes mountains.